Book Your Free Evaluation
Includes custom project plan, pricing, and walkthrough.
Trusted Foundation Repair for Houston and surrounding areas.
Give us a call for expert Foundation Repair fast!
More areas we service are:
Bellaire Tx, Cypress TX, Humble TX, Katy TX, Tomball TX, and many more!
Homes built with slab foundations can have foundation settlements that can cause various problems, including sloping floors, water intrusion, and cracks in walls, to name a few. A common cause of slab foundation settlement problems is the clay soil in our area. A settling concrete slab can also show cracks appearing in the slab. Most home architecture design accounts for most of the structure's weight rests on the exterior walls, so if the slab settles, the floor pulls down from the walls, which leaves a gap. Over the years, the house's framing will drop, which can cause cracks under baseboards upstairs in multi-story homes. Many times crown molding is installed to cover gaps at the top of walls that settle with the slab.
You might be experiencing foundation issues for several reasons. Foundation Repair in Houston is prevalent due to the clay content and land elevation with sea level. When your slab cracked, you want to address it quickly and with the best method for your situation—and budget. There are many different ways contractors approach foundation repair. Finding a contractor that knows the best strategy for your foundation is essential for slab repairs that will last.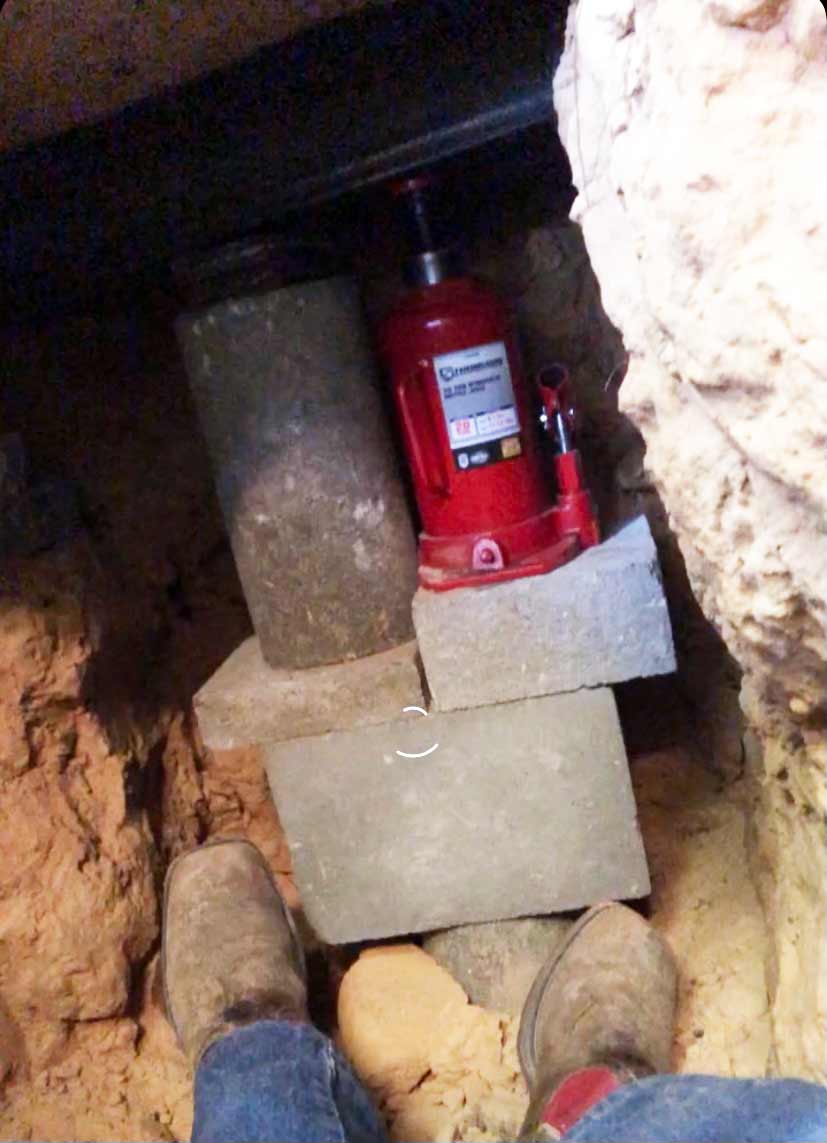 Most foundation repairs aim to elevate the foundation back to as near its original horizontal position. When a foundation settles in, the walls get "stretched" somewhat. That "stretching" of the walls can create cracks in the finished surfaces of the exterior brick and interior sheetrock walls.
The foundation should not move after repairs; however, the framework behind the sheetrock may need a period to "adjust" to the new location. This means that they should wait a few weeks before fixing cosmetic repairs. If you are selling your home and would like to do these repairs immediately, it might be necessary for the new owner to do some minor cosmetic touch-ups later.
Structured concrete piers are the preferred foundation repair piers used to repair slab foundations in Houston and the surrounding areas. These structured piers are suitable for both concrete slab foundation repairs and pier and beam foundation repairs. Noble Foundation Repairs offers a lifetime transferable warranty.
There are other slab foundation repair methods below that we typically do NOT use, such as slab jacking or foam jacking, which can be cost-efficient but are not a thorough and lasting method we use.
Foam jacking injection holes are small (dime-size) and relatively infrequent in number. However, drilling tiled floors at the four-way intersections in the grout lines then patching with stained concrete matching the color of the tile or grout is a great way to create a clean look. Using this method, technicians make a checkerboard pattern over the problem area by drilling holes in your slab, and injecting high-density foam under the foundation. After injecting, the foam expands, raising the concrete, and filling in empty spaces.
If you have a lighter foundation, spot piers work well. A spot pier is shallowly prepared beneath the foundation and filled with concrete. This option is best for porches, sheds, or any other structure with a smaller, therefore lighter, foundational load. They are installed under the foundation using an underpinning process that provides stabilization and lifts for the concrete slab foundation.
Masonry Patches and Sealants repair cracks associated with shrinkage usually occurring in the corners of your foundations. Though they aren't severe structural issues, they do need maintenance before further damage occurs. Usually, patches and sealants come in the form of hydraulic cement.
Epoxy Resin, an epoxy sealant, is similar to a hydraulic cement sealant but is used with more severe foundational cracking. Epoxy can be injected or poured, allowing you to choose the best application for your situation.
These solutions are suitable for many different structures, as the piers are long-lasting and durable. Polyfoam injection involves injecting a foam material underneath the slab to fill in underground voids and lift the slab.
If you notice settling slab foundation signs, a professional on-site evaluation from a trained foundation repair consultant can help determine the cause.




Highly recommended if you want it done right. Helped a family member only repair what was needed, Other company wanted ro add a bunch of extra pilons that weren't needed.
Noble Foundation Repair did a great job!!! Very honest people! Andrew and his crew are amazing. His knowledge and work ethic are unmatched! 100% recommended!!!!
Can't say enough great things about the company. Andrew the owner truly shows his clients the knowledge, professionalism, and urgency needed when dealing with foundation problems! If your house is leaning, call Noble Foundation Repair!
I have not had to use the services of Noble Foundation Repair, but I would not hesitate to recommend them. Andrew Guzman, the owner, operates with the values of honesty, integrity, and serving the best interest of the client. If they don't need his services, he will let them know, and not charge them for services they don't need.
Andrew Goosman provides free honest assessments on your foundation. Call him to get an honest 2nd opinion .
Andrew is the most honest foundation man I have ever met. And I have been in real estate for 30 years.
Sangita TheStylist
2023-08-02
Very honest, professional and affordable!
Andrew is a a very honest and knowledgeable person in his field and it shows in his company. I would highly recommend him to anyone needing foundation repairs.
Great customer service! Communication was great! Highly recommend Andrew and his crew!
Andrew is very knowledgeable and gives honest recommendations on repairs. He came out the same day I called him for a quote and had a reasonable price. His work is timely and left the job site clean. Highly recommend.